The thing about living in the city is you can't really enjoy all that Tennessee has to offer. Nashville may have country music stars, but you can't see all the beautiful stars above in the nighttime sky!
Looking to take a break? Get away from the traffic, noise and really see the best of Tennessee? We have just the spot. Come to the Upper Cumberland! With all of the natural beauty, it's the ideal spot to kick back and take a breather. 
Check out these local spots. Just a short drive from Nashville and just in time for cooler weather and the breathtaking fall colors!
Weekend Trips from Nashville
Cummins Falls State Park
Cookeville, Tennessee
If you live in middle Tennessee, chances are you have heard of this place and for good reason. If you love hiking and waterfalls, this is the spot for you. This place has quite the views. You're probably thinking : "Probably just a small waterfall" and if so, you're wrong! This big beauty is 75 ft high. Take a seat on one of the staircase-like ledges.
Here's another post about Cummins Falls with everything you need to know.
Center Hill Lake
Smithville, Tennessee
Alright, so Nashville has Old Hickory Lake and Percy Priest but have you heard of Center Hill Lake? Word on the street is that's where everyone goes from Nashville to escape the crowd (including a lot of country music stars!). Known for the clean water and laid back vibe, this is a great place to check out. Don't forget to stop in at one of the marinas to grab a few drinks and some food.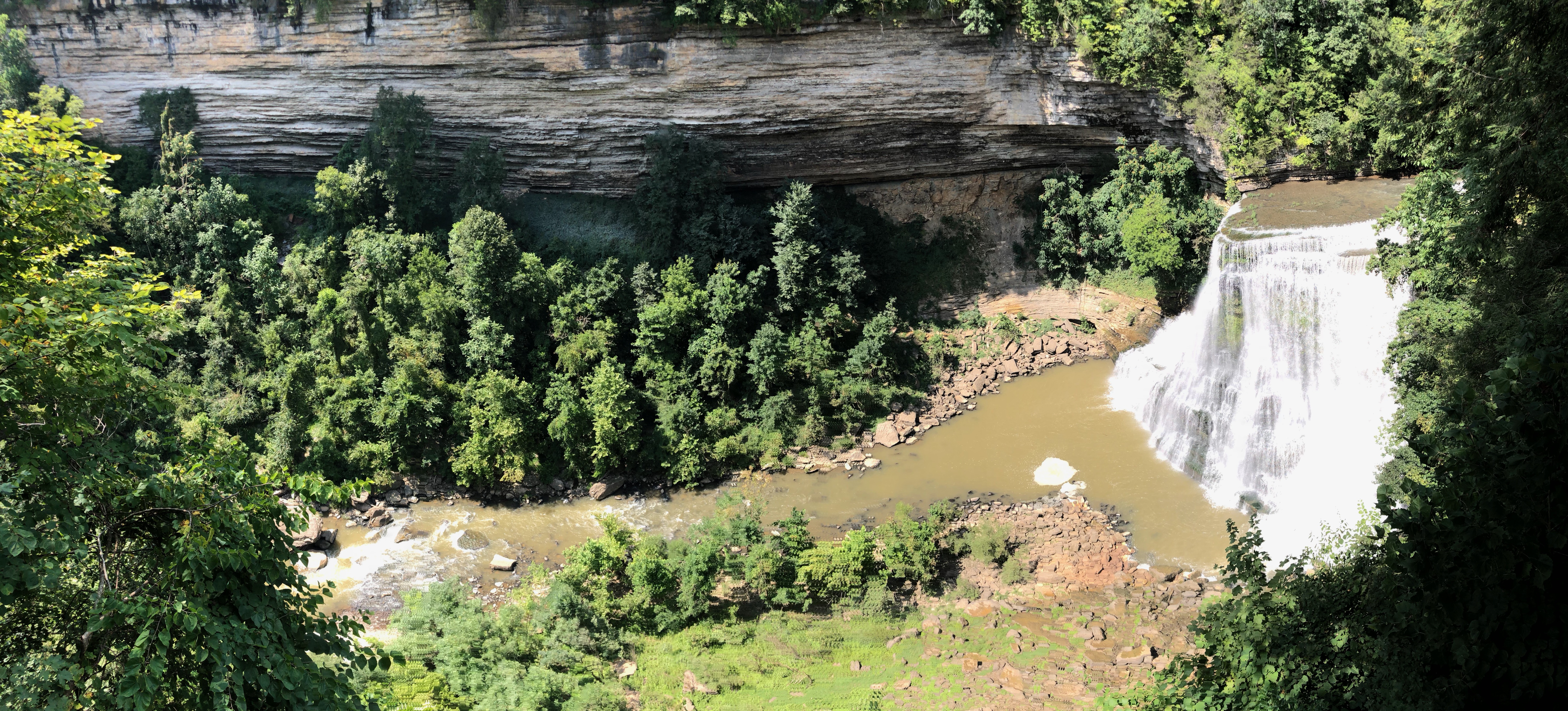 Burgess Falls State Park
Sparta, Tennessee
State parks, waterfalls and all things amazing are kinda our thing around here. Another cool state park you're going to love and want to check out : Burgess Falls. Natural, trails weave in and out of this state park offering all kinds of views of massive rocks, bluffs, bridges and waterfalls. You can also walk alongside the streams and waterway. Therapy at its best.
Bee Rock
Monterey, Tennessee
Not as large as a state park but worth the short hike for the view. Bee Rock gives you a bird's eye view of a large portion of the Upper Cumberland. There's no better place to admire middle Tennessee's rolling hills. It's the perfect place to eat lunch or just kick back and relax and watch the shadows of the clouds dance across the ridges and valleys. If you're looking to stay in the area, check out The Garden Inn Bed and Breakfast at Bee Rock. 
Edgar Evins State Park
Silver Point, Tennessee
More on the Nashville side before getting into Cookeville, this is worth the short drive. Hiking trails, a small peninsula that reaches into beautiful Center Hill Lake and a marina offering boat rentals, you'll want to take the family or significant other to this place. Stay a while and explore this large park. If you're into photography, be sure to grab your camera – you'll get some great shots!
Canoe the Caney Fork River
Center Hill Lake
Have you ever been canoeing or kayaking? There's nothing like it! Rent a canoe or kayak at Caney Fork Outdoors or Canoe the Caney. Don't worry about hauling the canoe or going through the trouble of trying to get down to the water. These places make it too easy to have a great trip. You'll be shuttled down to the river, dropped off at the dam and be on your way! Once you've made your way – at your own pace – down the river, they'll be there to pick you up.
Local tip – Wear shoes you can get wet and don't take anything you wouldn't want to get wet. The water is generated at the dam and stays pretty cool so you won't be too hot. Take a snack and drink – you'll be on the water for at least 2 hours. Wave at the cows when you pass by and keep your eyes open for hawks that fly over! ?
WestSide
Cookeville, Tennessee
Local shops, outdoor patios with frozen sangrias, specialty dishes, local breweries…the list goes on and on. WestSide offers the best of the best! Check it out after you're done exploring. You're going to love our small town charm and downtown area.